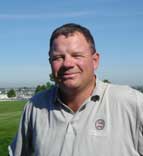 Head Professional, Tournament Director/Coordinator
John Lewis
John joined the staff at Centennial as a PGA Professional when the Course opened in September of 1987. He would like to have the opportunity to retire from Centennial when the time comes for his retirement. "This was my first Head Professional position and it would be nice if it were the last. I have seen the Golf Course grow and change over the years; trees, traps, ponds, fairways, roughs and even the people. Some of the changes have been to my liking and others not. The trees are taller, fairways narrower, roughs longer, greens faster and I am older - these all make the holes tougher. I will make no excuses for my higher scores - they are just built into the process. I love to compete, and will until my time is up or until the last bogey."

"I have a sickness that all true golfers have - GOLF!"

John's favorite hole at Centennial is the par five #8 hole. "This hole either makes or breaks your day."